1) Celebrated our 15 Year Anniversary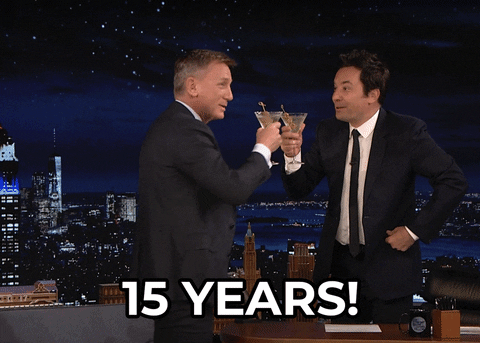 March 2021 marked a celebratory 15 years for WORD Rock Drills! To mark the occasion we held an office quinceanera and shared our favorite stories from over the years. One fun fact you might not have known about WORD, we built our first drill in a garage. We have since expanded to a larger shop facility down the road but that detached garage is currently where our office staff report for work each day.
2) Remodeled our Offices
The office team at WORD powered through during months of remodeling construction to expand our existing office space to better accommodate our growing team. Featuring a new open concept working area, designated break room, conference space, and shipping/receiving area, the updated space has brought a new level of efficiency to our office team!
3) Became a WOSB (Women-Owned Small Business)
Did you know that WORD Rock Drills is a Women-Owned Small Business? That's rights, in 2021 WORD made it official! With our new status as WOSB we are hopeful to connect with customers in new areas of the construction industry. In addition, we are excited to engage in this new platform and spread awareness not only for WOSB organizations but also for the Women in Construction movement.
4) IFCEE 2021: Our Biggest Trade Show YET!
2021 was an exciting year for trade shows after many events took a hiatus for 2020 but IFCEE took the cake! Our biggest trade show yet, we displayed a variety of equipment and even had a mechanical bull in our booth space to bring a little Texas spirit. Connecting a wide range of drilling industry professionals, IFCEE was a great show to start up conversations with both current and new customers.
5) Hosted our First Hollow Bar School
In partnership with our friends at Intech Anchoring Systems, we took on the challenge of hosting our very own Hollow Bar school. Featuring an educational presentation on Intech hollow bar systems, Chemgrout mixers, and WORD drilling units in addition to outdoor training, this school was a big success. If you and your team would like updates on our 2022 school, be sure to register for our WORD Wednesday Newsletter for updates!
6) Grew Our Team
Our team grew tremendously during 2021 and we couldn't be happier! From 15 in 2020 to now 19 at the end of 2021 we have added 4 new team members to our growing organization!
7) Increased Our Ministry Focus
We were blessed with many opportunities in 2021 to serve various ministries as a team. One of the most popular service projects was a day spent in Charlotte, NC volunteering at the Operation Christmas Child packing facility. Not only were we able to donate 200 shoeboxes as a team, but we were also able to help move those boxes towards their final destination by sorting and packing the larger shipments directly!
8) Improved Team Health
The WORD Rock Drills team kicked off 2021 with a new healthy lifestyle initiative that has made a huge impact throughout the company. Knowing that a healthy lifestyle can look different for each individual, WORD made a push to provide a variety of tools to our team to help them achieve the healthy lifestyle they desire. These tools included a new on-site gym, more robust healthcare coverage, a company weight loss program, and new standing desks for our offices. With the help of these tools and the support throughout our team, we have seen tremendous success in improving team health, collectively losing 270lbs between all participating members. It has been amazing to see our team bond through routine visits to the gym, challenging one another to stand at their new desks and drink 100oz of water daily, and motivating each other to think differently about food.
9) Celebrated our Team with WORD Weekend 2021
As 2021 came to a close, we took a long weekend trip to Tennessee as a team to celebrate a great year! Our team and their families joined in for a fun day at Dollywood along with a couple of site visits to locations in the area where our customers had worked. We are so grateful to our team and glad that we were able to provide this fun opportunity after a year of hard work!
10) Shipped a Record-Breaking Number of Drills
Totalling 73 units by the end of the year, our team of 19 shipped a record-breaking number of drills in 2021. To celebrate, we sent out our 3rd annual "Rock Tour" end-of-year t-shirt boxes to each of our drill customers. These annual boxes feature a different rock band-themed t-shirt each year with a rock drilling twist.